Video Unification Platform
The TERRA 4D video unification platform bridges the gap between several legacy video systems and future video systems. The integration and unification of all video subsystems enables seamless operation through only one state of the art operators user interface. Looking at live video, analysing recorded video, controlling PTZ cameras of different video management systems in user-friendly form via one unified software interface is now possible.

TERRA 4D video unification platform offers advanced features that support operators in all departments, to assess and resolve incidents efficiently. Multiple camera object tracking, time machine function, workflow and incident reporting are a few of the features which enable operators to take immediate and precise action during a security incident. The seamless integration of existing and future video management systems supports operators in command and control centers in every circumstance.
Key benefits provided by TERRA 4D video unification platform:
Integrate multiple video solutions seamless on one operator platform
Collection, collaboration and sharing of information
Intuitive workflows remove operator randomness, reduce stress for the user during an incident and enforce company's compliance guidelines
Speeds up situation response times and minimizes risk
Improves multi-agency coordination and data exchange
Reduces cost of services by increasing efficiency and avoidance of human errors
Reduces maintenance costs
Seamless integration of existing and future video management systems
Support of live video and playback of recorded video
Unified control of PTZ cameras including user priorities
Unlimited video channel support
---
Datasheet
Learn more about our Video Unification Platform in the datasheet: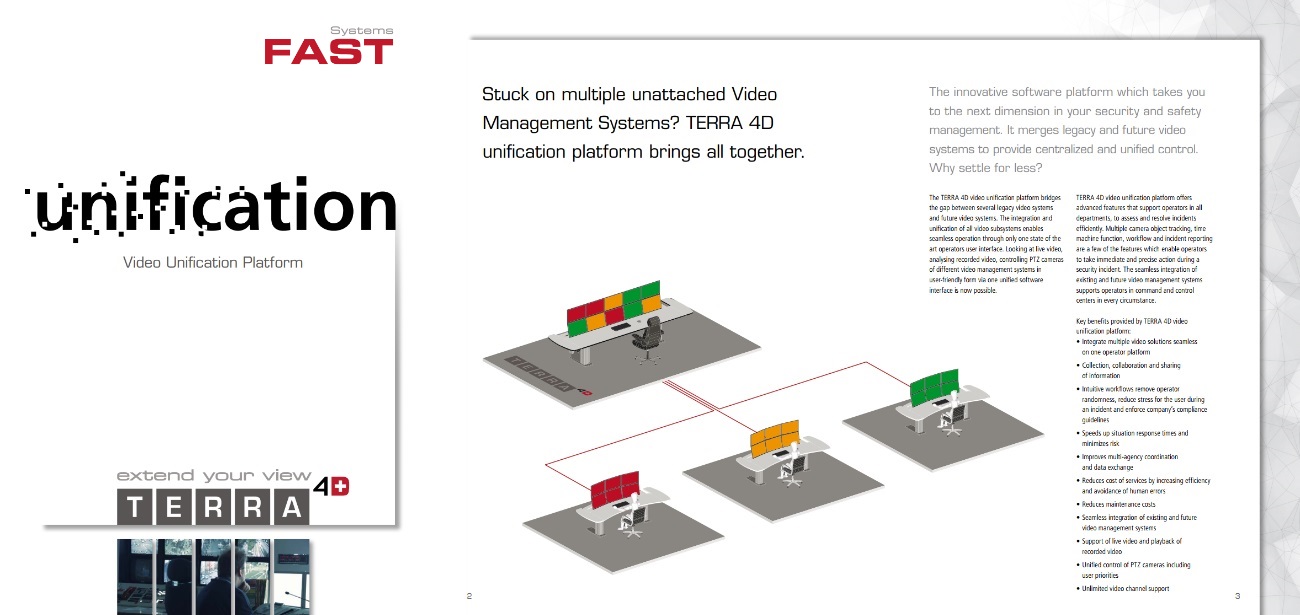 Features
Command and Control
| | |
| --- | --- |
| Video wall | Support of video walls and multiple screens per desk. |
| Time machine | Use the player control to navigate through time and see all recorded data time-synchronized. |
| Workflow and incident reporting | The intuitive workflows remove operator randomness, reduce stress for the user during an incident and enforce company's compliance guidelines. |
| User Management | Unified role based user administration and management. |
| Layout Independent Program (LIPO) | Keep system maintenance up to date: removing, adding or moving a sensor needs only a deletion, add on or correction of sensor coordinates. No system reprogramming required! |
Video
| | |
| --- | --- |
| Supported cameras | Analog (with encoder), IP, fixed, PTZ, 360, mobile or airborne. |
| Position dependent salvo | Shows closest cameras to a static or dynamic location. |
| Direct PTZ control | Video latency compensating method to control any PTZ device fast and precise. |
| PTZ auto presets | Automatic configuration of all interesting locations in PTZ camera's field of view as PTZ preset positions. |
| Meta data recording | PTZ head data are recorded. |
| Multi camera tracking | Follow a moving object even in crowded environments using one or more fix or PTZ cameras simultaneously. |
| OSD / Augmented reality | Augmented reality layer on top of video image display including context sensitive interactions. |